PACK IN ADVANCE, rule 1! It is easy to do things last minute when you are traveling alone or as a couple, but with a baby anything can come up. So begin the pack in advance.
We took our first flight when Levi was 4 months old. I was nervous but also excited to be headed to California for my best friends wedding. At the time I hardly left Levi for more than a few hours at a time, so it had been 4 months of really getting to know him. The beginning weeks test you in many ways, but by 3 months a sense of mama confidence comes within – regardless of how it happens! For me, at least, it took a few weeks before I pushed the night nurse, the moms, and even my husband away because "I got this!" — it took a few weeks, like I said, but thankfully the Summer of 2017 is the time in my life I became newly confident in motherhood… so it was time for flight.
Now every mom and every baby is different. I was breastfeeding Levi which made take off and landing easier. This is how the 6 hour flight with a newborn goes:
Sleep times awareness: baby is not fully on a schedule as of yet, but in studying his sleep us moms learn when the baby needs his sleep. At this young newborn age, baby spends about 2 hours awake. So even when traveling, it is key that you make time to help him nap. We schedule the flight keeping in mind the car ride to the airport and the wait time at the gate. One of these events must be dedicated to helping baby sleep. Baby must sleep at least 1 hour after being awake for no more than 2.5 hours. So if it works that he sleeps on way to the airport, great – but if he is awake through it all, and most likely need to be woken up for walking through security, that means skipping the free drinks in the lounge and walking aimlessly while rocking the stroller and doing whatever it is you do to make sure baby sleeps before flight. If he gets even 50 minutes of sleep, he will be less prone to crying of over-tiredness once in flight.
My experience has taught me that: it is worth the endless walking to get your baby to sleep!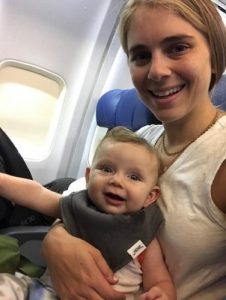 Baby wearing: While Levi was good at sleeping in his car seat as long as I am walking around, I felt he napped deeper and sometimes longer when I wear him. (especially at 4 months) At this age I was still using the baby K'tan, highly recommend for a snuggly babe. For walking through the airport and not feeling like you have to constantly keep an eye on him, it is so easy to wear him, leaving empty hands for holding bags and maybe even an iced coffee. I would wear Levi when I felt he needed to nap and walk/rock him until he was sleeping. He did not have a seat on the airplane so this was even better if he fell asleep before boarding. Rather than having to transfer him etc, we would be able to walk right on board with him sleeping on me through all the pre-take off announcements etc.
Once we are in the air and seatbelt sign is turned off, I spend most of the flight walking with him either to keep him asleep or keep him happy. You can get a lot of steps in just by getting on board with babe!
If I sat down Levi was inclined to wake up, so I spent a lot of time in the aisles rocking him. When he slept for at least an hour, I allowed myself to sit and dada and I would switch off holding him. After 2 hours of playing with him, I wear him again and do the walk for a nap. It is worth it when landing in sunny california!!
Helpful husband: The key is truly to not do it alone, at least not the first time. Thankfully Joshua holds all the bags and takes care of all the tickets/boarding tickets etc. He is so organized and good at making sure that I am good. He is the reason I gained the confidence in traveling with Levi, I still have not done it alone. So even if you do not have a husband or partner traveling with you, ask for help! Have someone keep an eye on your bag while you go and change the diaper, and you will be surprised that people are kind in helping new moms.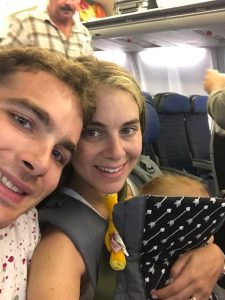 Be kind: In the end, just be sure to be kind to those around you. Lend a smile or even a kind word because the people by your gate may end up sitting next to you on the plane and might be someone to help put a bag in the overhead or just not give you dirty looks if baby is crying. You give what you get. If you want to be given a kind flight, lend kindness to others. I find that even flight attendants are a bit nicer to me when I am overly nice. They deserve it! I have come across many flight attendants that give me an eye roll or a dirty look for standing in the aisle of the plane. I get it, it is their space. but for these 6 hours it needs to be my space too, so try to make conversation or politely ask if it bothers them if you walk around or even stand in the back of the plane. I have gotten into many conversations with flight attendants in the back of the plane! Once the baby is asleep, at this young age especially, sound does not bother them. So keep yourself open to conversation with anyone that passes, it's worth the small talk to make the trip off to a good start.
Baby's airplane bag:
-diapers for 3 days, you never know what can happen and it is best to be prepared.
-Wipes (lots)
-Bibs (to avoid having to change the outfit, especially if baby drools or spits up often!)
-changing pad: this is especially key when taking flight due to the germs everywhere
-Sanitizing wipes/table covers: I always have these in my bag to wipe down the tray table. I also ordered on Amazon sticky table covers, which you can use on a plane or in a restaurant so if baby decides to touch the table it is covered in plastic.
-extra plastic bags: for dirty diapers, or soiled clothes
-Nursing cover and/or formula
-swaddle blankets: i used this for everything! as my nursing cover, and as a place to sit Levi down so he would not get direct contact with any seats or couches that millions of other people sit on. I also use them to cover the stroller in the sun or even cover him while I wear him in transit so he does not get distracted when trying to nap.
-3 change of outfits: things can get messy and baby clothes are so small that it really does not take up much space!
I use mesh packing bags, and plastic bags, so I can see through and know where everything is during frantic moments of needing to change.
I also pack diapers in one main area and then scatter some throughout other bags in case of emergency, plus it is always a relief to find diapers in the suitcase when on the road.
-Tylenol: I had ear pain during landing often when I was young so I do not hesitate in giving Levi a dose of Tylenol to prevent him from feeling pain.
-Pacifier
-Toys that he likes: at infant age it is best to get something that he can squeeze with his hands. Try to avoid toys that make music so there is no disruption to other passengers.