Getting through the jetlag was fun(ny). For the first two weeks, our days were spent with food shopping to make our apartment filled with food/snacks to give it the home feel, walking around, sitting and trying out the nearby cafes… our nights included late night dinners and strolls, realizing how lively the streets of Jerusalem are on any given weekday. It is awesome to see couples, families, strollers, etc out and about throughout the evening. But we were really focusing on making sure Levi gets his sleep. He would take his "Afternoon nap" from 530-830pm, and we would then go out for dinner and get home by 11pm. So we really got lots of "night life" in during those beginnings weeks.
If there is one thing i learned in the past 13.5 months of having this angel in my life it is that: SLEEP IS IMPORTANT. I have never been one to "need sleep" (or so I thought), so learning the value of sleep is a major part of #motherhood, for me.
So now, 2 weeks into our journey, Levi is sleeping 8:00PM-8:00AM, our night life is cut short and we are starting to feel more like "locals"… our nights went from wine and dine out on the town to folding laundry and doing dishes while dada works since he is on US working hours of 4PM-1AM. So, the night time is when I practice being the #housewife I want to be. Something about having a big space, garden air, and a washer/dryer in the apartment encourages me to clean happily. I love making this space perfect for the boys.
An average day is like this:
Wake up, bottle in bed with mama dada, get dressed and ready for the day. Breakfast consists of a cheese Boreka, a yogurt, and a fruit either a banana or a plum.
We hit the park and let Levi crawl around in the freshly cut green grass. Across the quiet street from our apartment is a park that is always filled with moms, dads, and babies. Levi loves to mingle and crawl around and already has made many israeli GF's under the age of 3, and over the age or 65. He gets a morning swing time while mama does yoga and dada does work.
Then we head to our new favorite coffee spot, "Lechem Shel Tomer", (bread of Tomer), for a pastry and an iced coffee.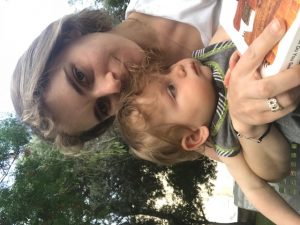 We take a family walk to the shuk and occasionally go to the kotel when time allows. The thing that I love about Josh and I is that we are always down for the same thing. It could be 90 degrees but we both feel that we want the streets of the old city to be a part of our hearts, and of course Levi's, so when one of us suggests the Kotel walk, the other hardly ever argues with it.
We make it back to our apartment by 11AM for Levi's morning nap.
While Levi naps, Dada does work and Mama cleans up and does yoga. Occasionally I hit that park across the quiet street and get some meditation time in, my only alone time of the day.
1PM comes and it's time lunch time for Levi, which always is based around tomatoes – his favorite. We have tomatoes, cheese, bread with jam, more cheese, cucumbers, sweet potatoes and of course CHUMMUS. We enjoy lunch and then go for a walk. We have discovered our neighborhood and love Rechavia.
RECHAVIA is a neighborhood about a 25 minute walk from the old city. Our address here is Sokolov St, right off of Jabotinsky street. For israel goers, it is right near the Inbal,  outside but near the German colony. It is filled with houses and apartments of old Jerusalem stone, lots of French speakers, and a variety of moms with young babies. I feel very comfortable here because I am shabbat observant, and I wear sleeveless and do not cover my hair. In some super religious parts of Jerusalem I am not sure i would feel so comfortable — just like in some very "hippie" parts I would feel the same– so where we are is "right in the middle" on all fronts. It is a young feeling neighborhood with anywhere from moderately to very observant crowd. The park is always filled with parents (yes, dads too) with their strollers and all the strollers are a name brand that I recognize which usually means a large part of the crowd made Aaliyah. (i think) i talk to moms here and there but since we are only here temporarily I do not go out of my way to make "friends". It is nice to work on my Hebrew with the local moms but I just try to soak my time up by focusing on Levi and focusing away from anyone other than him. #obsessedmom.
We do some sort of long walk or adventure to a local park or water hub and end up back at our apartment by 4pm. Dada starts work (7am NY time), Levi naps, and Mama catches up on her phone. (unfortunately this is the reality….) I really never use instagram while we are walking or out on the town, but I do need to find a means of staying in touch with my friends family and realities from home. I spend time on the computer planning our trips, and by the time Levi wakes at 530pm I feel that I got a few things done. But just as any mom will say: no time flies by faster than nap time!!
Early evening Levi and I let dada be home to work and head out on our own. Sometimes I take him to a cafe and give him his dinner there while I sip on a glass of wine. We love to people watch, we love to walk, and we spend time 'facetimeing' or catching up with our family at home. We are home by 7 for dinner time, bath time, family time. We sing songs, read books, and do the nighttime bottle so Levi is asleep by 8pm. I sometimes go on a walk, and then we have a late dinner together with some wine and our garden door open. These are the moments we dreamed about and spent months planning while living in NYC. The feeling of "living life normally" all while being in Jerusalem. Every time it gets dark I feel a little sad that the day ends, but Josh is here to remind me that I am doing a good job in taking in each moment! I do yoga in the apartment, making sure to get in at least 10-15 minutes a day.
On Sunday we rented a car and the day went like this:
Car pick up from "Sixt Shlomo" on King George street. (across from the David Citadel).
We drove close to 2 hours to reach Zichron Yaakov – we felt like we entered California – it is up in a mountain and is a Jewish neighborhood amongs palm trees, mountains, and wineries. We had lunch at Tishbi– it was delicious.
Then we drove through Ceaserea, and landed at a secret beach of Hof Dor. it was beautiful. The water was clear as glass and very calm- a hot day with no wind, so hardly any waves.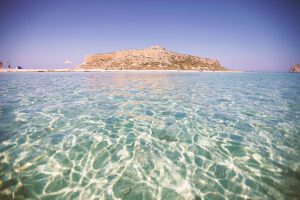 I took Levi in and he swam! It was fun for us to see our toes through the water, something that definitely does not exist in NY/NJ. I love the ocean, Josh is from the ocean, so the love of water is definitely something we instill in Levi.
We spent close to an hour playing with the sand by the shore. (with lots of sunblock of course). The beach closed around 4pm so we drove down about an hour of the shore to Netanya.
Netanya is another Jewish neighborhood that looks like California, and is filled with French and I think Russian Jews that have money and made their home here. The apartments on the beach remind us of Bal Harbour, and the 50 Kosher restaurants and bars that are feet away from the beach remind us of Lincoln road. We can't help but make comparisons between where we are, and what we know.
For dinner we have bread, pasta, and we enjoy the sunset over the ocean, while I am sure to get my yoga in while breathing in the beautiful view.
At 10pm we get into the car, Levi falls asleep, and we drive back to our home in Jerusalem…. it was a full and beautiful beach day.