We are officially feeling like locals, it really takes 2 weeks, maybe even 3! The weather has been on and off. High 50s to low 60s. In the sun it feels warm, but in shade or by the water it gets windy. During the sunny days I am out with Levi all day, i mean it alll dayyyy, todo dia, Kol HaYom !  (get that hebrew spanish english thing)
Things I found that i love:
-cafe with a park next door!!! This might be on one of my options as a career. I would
I love being abroad with the boys.
I love learning these streets and knowing that the 3 of us share a view, and a feeling, that only our little family could understand.
This apartment is OURs, for a full month, and we surely have taken full advantage – like we always do!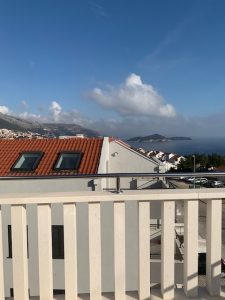 Every family has their secrets – ours are the way that we do travel.
I could post pictures and text my friends about our daily adventures, but its got nothing on what life is really like.
So all I could do is take it in and do my best to diary about it so when I am not here I could read my words and come right back to it.
Like: dear future me, Do you remember your walk to the Pemo market?
Pemo is the WaWa of Dubrovnik, Tommy Market is the Shoprite.
We really get to know the supermarkets because we eat Kosher so spend a lot of time coordinating our own meals. Thankfully it is something we got better at! With experience comes learning how to handle the market aisles.
It is so different here! there is no frozen food, no prepacked vegan meals awaiting every step, and everything in the market it made to cook and uses as little packaging as possible. It seems that everywhere other than the US people are much more aware of the plastic usage.(except for you, Brooklyn!) Speaking of Brooklyn, there is so much here that reminds me of my sister! The ultimate goal is to be neighbors with our siblings but for now we will take being neighbors with the pearl of the Adriatic. This is the nickname used for Croatia and I get it! The ocean has a shimmer unlike anything I know.