I will not be controlled by my baby's sleep, I will not be controlled by my baby's sleep, I will not be controlled by my baby's sleep, I will not be controlled by my baby's sleep, I will not be controlled by my baby's sleep..
I am living abroad so therefore must accept flexibility, I am living abroad so therefore must accept flexibility, I am living abroad so therefore must accept flexibility, I am living abroad so therefore must accept flexibility…
JUST KIDDING! 
A peaceful Shabbat, to say the least. In the morning we woke up and made our way to the Great Synogogue — a huge Shul with a choir of 15 men, so all the songs of prayer are really able to get into the heart… until after 5 minutes when Levi won't sit anymore and I ran out of cookies so we go into the hallway and he crawls around, while still getting to hear the peaceful music from afar.
I end up talking to an Israeli mom of an 11 month old boy, his name is Noam, and he and Levi play around while we discuss the art of child sleep. This topic, something i finally feel experienced in enough to have a strong opinion on!!!
We head home afterwards, and Josh and I enjoy a huge spread of dairy bliss while Levi naps. We have salads with cheese, more cheese, lots of dips, and some herring and wine – of course.
If I could think about the Kotel notes I put into the wall when I was a teenager, I feel very sure that there was at least one that said "Please find me a boyfriend that I feel comfortable enough to eat herring around"… so, THANK YOU, UNIVERSE, HASHEM!
Sunday, the Monday of this country, and Sonday for us. We are still New Yorkers at heart so we spend the day with sort of adventure. The weather was HOT so we decided to head to a pool and let Levi crawl around, swim around, and be free. On Shabbat we spent a lot of time walking, so a lot of stroller time for the baby, so it's important that the day after we allow him to have lots free & floor time! It is a fun day– we finished the day by eating leftovers from Shabbat in the park. (the park AKA in front of our apt!) Now I let Levi eat a watermelon by himself, which causes a mess, but even his mess makes me happy.  Plus we have a washer dryer in the apartment so have been doing laundry every other day! (not really by choice, keep in mind we had to pack our lives for 3 months in 1 suitcase)
Monday morning Joshua made his way to Aish for cool classes with interesting Rabbis, I was so glad he finally was able to make time to get some Torah time in as it can be hard between the workload and hanging out with his family. While he was there Levi and I got spiritually fed on our own too! We went to the OU center (located on Keren Hayesod, a 3 minute walk from our home) and went to a "Parsha Parenting" class. 2 Jewish moms from the area brought great insight on how we can learn from this week's portion lessons on how to handle children. I took away some good thoughts, what really stuck with me is that from a young age it is important for your kid to learn that Mommy knows what is best, and knows right from wrong. If a child asks his mom to do something, and the mom says no, and the kid says "WHY NOT?" …  instead of reasoning with your kid over why he may or may not do something, a mom should just be able to say "because mommy said no", and the kid will understand that means it's right.
On the more positive way of putting that, I am going to think of a complete hypathetical "yes" version of this:
Son: Hi Mom, Can we go swimming in the pool instead of the beach today?
Mom: No, we are going in the ocean today, the pool is closed and we will go back in a few days.. (while reading the local news that the pool is closed for the week)
Son: BUT I WANNNAA GO IN THE POOL!
Mom: Son, mommy said no pool this week, but I promise you a good time at the beach and GD willing next week I will take you back to the pool and it will be even better!
Son: Ok MAMA, YEY!
….  made this up and since Levi is only 1 I probably have 0 idea what im talkin bout!!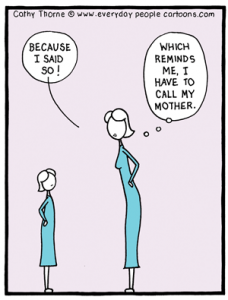 Anyways: we stuck around the OU center for the class to lead right into our weekly Monday Music class. The music teacher, Jackie from Australia, wasn't feeling well so she sent her friend in to teach us yoga… it was AWESOME!
An hour of yoga followed by a stroll home through the garden filled with dessert plants, and a nice 2 hour nap that Levi took after his fun filled morning. I feel really proud of Levi for sticking around and playing nicely for 2 hours straight. Sometimes I feel that his moods could be a hit or miss — but lately maybe because he is getting older if I stretch the time between his naps he has been handling better than he did even a couple weeks ago.  I don't let more than a day or two in a row go by without him having his "regular" schedule, and perhaps that is why on days we want to do something different he handles it well because generally I have him get his full crib naps.
When he woke up from his nap, we went to a cafe I have been wanting to go to– "Caffit " — located on Shlomzion street, across from the entrance to the Old City. Levi and I shared a carrot/orange juice, an israeli salad, and of course some bread. He is so much fun to go on a date with!!! I put my phone away (no instagram during the moments i must soak in) — for there is nothing more exciting to Scroll while I Sit with my little love.  I love that my scrolling time has decreased majorly here!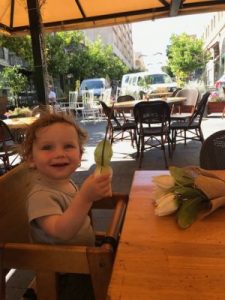 But, as "free" as I do feel here from the phone, I am still a mother of the millennial, so I did take a photo, or 2…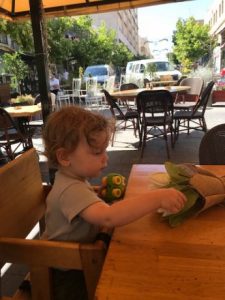 Once we ate a little we then headed to Teddy Park and met up with my friend Carly and her daughter Noa to jump around the fountains! I have never been here before, a newish area located right across from the Jaffa gate leading to the old city.
I don't know how to explain how the water flows other than finding an image online…  As you can see here it is a popular place and obviously all the parents in the neighborhood know that at 5pm the sprinklers turn on. At first I didn't think Levi would "fancy" it, as sometimes he cries when I put him into the bath, but thankfully I changed him into a bathing suit! He could not get enough! He was smiling that square angel face that I love and mentioned in my post about the first time I saw him at the shore loving the waves. The same face I get to greet when he sees me get him from the crib after his naps… that little face that I created 14 months ago that keeps finding deeper parts within my heart.
This little face of pure glee as the fountains of pretty rough water were shooting out of the ground!  he crawled around cracking up and I got soaked but I really didn't care. AT all. It was so refreshing, and fun, and afterwards we had a peanut butter sandwich — his first time ever!!
That was fun. He changed, I remained cold, and then we walked to Hillel St. to hang out with cousin Shimmy. Josh met up with us for dinner and we enjoyed NEW DELI for the first time since I got here!! I had half a steak sandwich and half a chicken sandwich…  so delicious. Levi was definitely tired at this point so we went home after a full day and he was asleep by 8pm. #ANGELSMILES.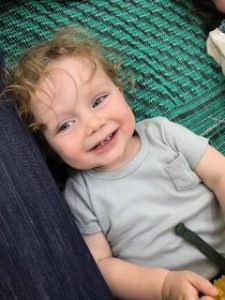 I miss him when he sleeps… yet I spend my whole day making sure he gets some!! #MOTHERHOOD.
Tuesday AM Levi wakes up on the earlier side so after morning cuddles and breakfast I take him to a 9:30am baby yoga class at the Studio I love here, located on Ramban street! Even just walking the streets and learning the street names is enlightening me. ( I think!) I am continuously learning the area and find it funny that just this week we start to feel comfortable except… w e a r e l e a v i n g s u n d a y. Wow i couldn't even type that without spacing it out.
Shooot… here I go again with #attachmentissues.
Yoga was FUN! The teacher, Elisheva, was amazing and there were about 10 other moms there – all english speaking this time around. Levi stayed on the mat for a total of 5 minutes, max, most of the time pulling at me until I hug or hold him. .  my favorite feeling…
He had fun crawling around the studio, laughing as we moved into new postures, and hardly made a peep so I dont think any other moms minded that my baby was doing his thing. WHEREAS in NYC, I would've felt judged and slightly embarrassed that my kid was roaming around. When a baby cried in class, people don't turn to look and the teacher hardly reacts. Just that in itself is what makes Israel a happy place! People have an underlying kindness, and I think it all stems from a true contentment with being in Jerusalem. Every person I have spoken to that lives here, maybe it is specific to our area of Rechavia, is soo happy to be HERE. When I chat with other moms in old yoga or music classes of UES, there is always a complaint! ALWAYS.  (well, I am trying to steer away from words like "always" and "never") so for now i will just say that a grand amount of mothers I have interacted with in NYC either:
1. forgot how to give a kind look to a person that is not in their iPhone screen OR
2. the start of the sentence is complaining about actions of husband or baby
IT IS SO REFRESHING TO be in this environment, i want to feel this underlying FRESHNESS at all times. Please Gd Help Me Feel This Always.
We leave yoga, come home, and I feel that he needs to release a little more energy before nap time so we head to the park for some swing and crawl time in the grass…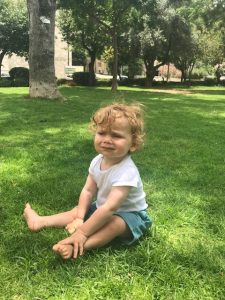 And then he naps so I sit here to write in this so I can keep at current and up to date with how I am feeling! YEY for being caught up!