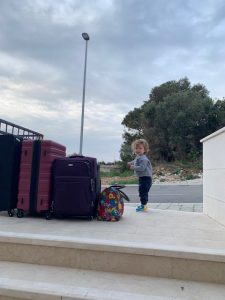 The outside of our @airbnb in #DBV!
Wont you ride along with me?
…come along…..
When we walk out of the apartment in the morning taking in the nature around us I can't help but sing the Daniel Tiger theme song, and I know that Levi agrees.
(a great tv show geared towards kids, by the same writers as Mr Rogers)
We head out of our apartment and now that it is getting warmer out head to a playground. The nearest and bestest places can be 15 minutes walk, but when Levi walks on his own – more often nowadays- it can take up to an hour!
We pass some beautiful sites that I don't get enough of.
Here are some of my must-do's in Dubrovnik:
with a strong emphasis on seeking Playgrounds and the best Coffee:
-Walking tour of the old city. I always like to get a good intro by a local. I used from airbnb!
-The playground beside the left by the entrance to the old city
-Nisht: vegeterian restaurant in the old city
-The Synagogue: a must visit, with a remarkable Jewish souvenir store next door
-Cafes in the old city
-Lapad area. Cafes, restaurants, markets, and playgrounds.
Highly recommend: Antika. Cafe with playground next door so can have coffee while Levi plays! Especially loved this playground as it is old school plastic/Little tikes type of play area which is rare for DBV
-If you make a right rather than a left by Sunset beach and continue down the road you will reach it.
-The playground by sunset beach and its surrounding area
-The playground on the walk to sunset beach, by the cafe "with the swings"
-Gruz market – port with markets, shops, a bit of cafes – & this is where many of the local boat tours depart from
–